This week I wanted to focus more on my research, so I decided to organize all my research by some sub-topics. I realized I had a lot of links to websites, but I wasn't really sure what the content was in them. So, I created a document where I organized them as well as pulled the most important quotes from them. So, in the future when I have to go back or I am looking for a specific source, I know which one is which. I also realized that i have 7 pages of research now which is exciting. This week I mostly did research on why people do/don't participate in activism.  
HERE is a link to it!
After last weeks, Spicy Feedback Session I realized I still have to give a lot of thought to what I want to do with my project. I thought guides were the best way to get the information across, but I soon realized that it was not. I also have to re-think my prototypes. Through some of my interviews I found that it was helpful for people to see visualizations of what some example AR experiences could be. So, I think creating a prototype along the same lines could be helpful. I started from the beginning and started brainstorming again. Below are some of my thought diagrams: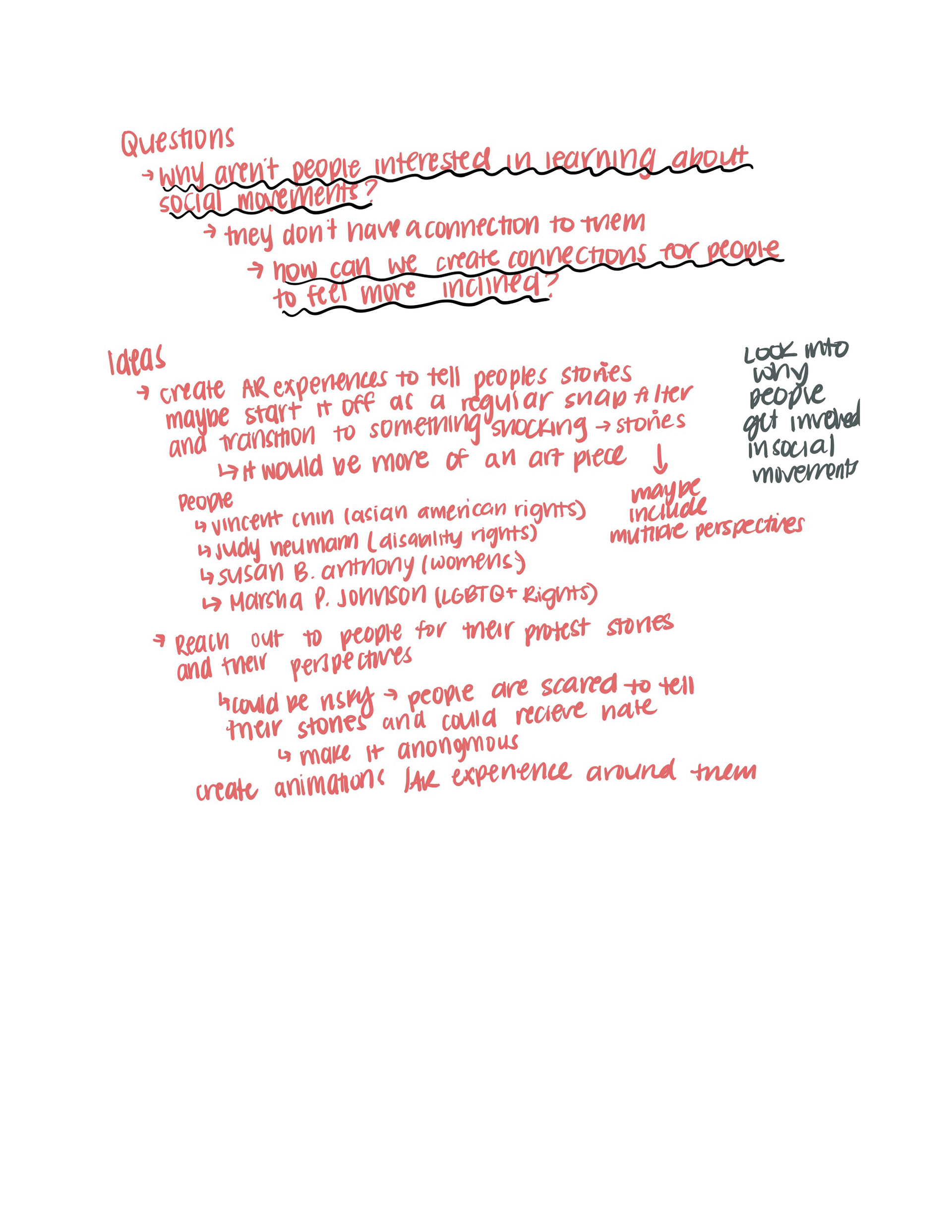 Research Question: How can Augmented Reality be used as a medium to encourage people to participate in activism?
An idea that I have is:
- Creating an AR filter that begins as something normal like a randomizer or a face filter and then it turns into an art installation/popup monument that people can put anywhere - it would intrigue people and then it would lead to an instagram account where it tells the story of the person who the installation was inspired by. This would create the surprise element that we talked about in class which could get people involved that wouldn't necessarily want to. Maybe even like starting off w a trump filter that would actually turn into a BLM installation.
HERE
are two filters I found that give you an idea of what I kind of want to do.
Concepts for different movements:
-Climate change - you turn the camera around and you see what the world will look like in 50 years if we don't start changing our habits
-Asian American Rights - Re-creating the feeling of what happened to Vincent Chin
-BLM - Starting off as a trump or far right face filter and it tricks you into turning it around and it is a BLM installation. 
-Disability Rights - Capitol Riots turn into Capital Crawl Monument (idk still thinking about this)
Some sample prototypes i have thought of - basic story line